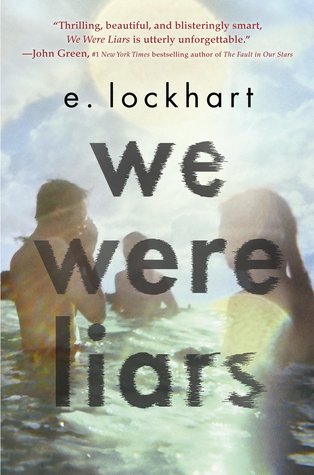 Summary from Goodreads:
A beautiful and distinguished family.
A private island.
A brilliant, damaged girl; a passionate, political boy.
A group of four friends—the Liars—whose friendship turns destructive.
A revolution. An accident. A secret.
Lies upon lies.
True love.
The truth.
We Were Liars is a modern, sophisticated suspense novel from National Book Award finalist and Printz Award honoree E. Lockhart.
Read it.
And if anyone asks you how it ends, just LIE
First off, I want to say that I loved E. Lockhart's The Disreputable History of Frankie Landau-Banks when I listened to the audiobook years ago. I was really eager to get my hands on We Were Liars, because it seemed like a cool, contemporary teen book that I would really dig.
Nope.
I almost put the book down at the very beginning because there were way to many characters introduced. I didn't know Cadence (Cady) at all, so trying to get me to know who everyone was in the family seemed a little too pushy for an introduction. Luckily, they didn't matter anyway. Gat was the mysterious boy, the Heathcliff character, who Cady was in love with. The scenes with the two of them were cool but everything else was basically filler. I ended up skipping the fairy tales that Cady wrote just because I knew they would bring nothing to the plot. In fact, there wasn't a plot. Stuff just happened. I noticed myself skimming through sections and getting through the book quicker than usual (one day) because it was just boring. I liked the idea that the family was wealthy and the mother was a nut job who told Cady to "act normal" whenever she got upset by anything and telling her that just because she was crippled by migraines, she still had "family obligations" (because if anyone in this book is a villain, her mother should get first dibs at that title).
The whole big thing about this book is that there's a twist and I can tell you, that is the only reason I stuck with 67% of the book before I just wanted to know what the "twist" was so I could get on with my life.
I know people hate spoilers, but luckily, someone on Goodreads explained it in a review. I ended up going back to the book, and skipped ahead to the last section of it (there are five parts to the book – nothing happens in any of them.) I didn't even read the whole end section either because I just did not care. You don't get to know the characters; they're just there. If that's the whole point of making selfish, rich kid characters who aren't interesting and who sit around at a beach house doing nothing then, fine, but I need a little more to be invested in their story.
And what was this whole thing about her being a "drug addict?" She had migraines that kept her in bed for days that needed medication. She couldn't function because of the headaches, so because she wanted relief from pain that was prescribed to her, she's an "addict?"
Anyway, I didn't mind the semi-prose because it reminded me of Ellen Hopkins a bit (and prose novels are a thing now too) and I liked that the book was in 1st person. (I can't really get into books that are 3rd person at all.)
So, bottom line is, I am not a fan of this book. As always, I appreciate that people are raving about it and that E. Lockhart has a smash hit, but I just didn't get the "wow" factor in this at all. I totally give the author credit for trying to add some nice, literary elements into the passages, even if they did come across as confusing. It could have been a novella, eliminated the boring, useless scenes, focused on Cady and Gat, and been a much more satisfying read for me.
Also, as everyone else mentioned: why are they "Liars?" If they were shady, crafty, b.s.ing rich kids who didn't care at all about deceiving one another and the people around them (which is what I thought the book would be about, honestly) that would have made more sense.
Happy Reading!